Secondary Navigation Menu
Home > Events > The Affirmation of Quebec > General de Gaulle's Call for the Liberation of Quebec
For correct page displaying:
You must activate JavaScript
And/Or install the Adobe Flash Player plugin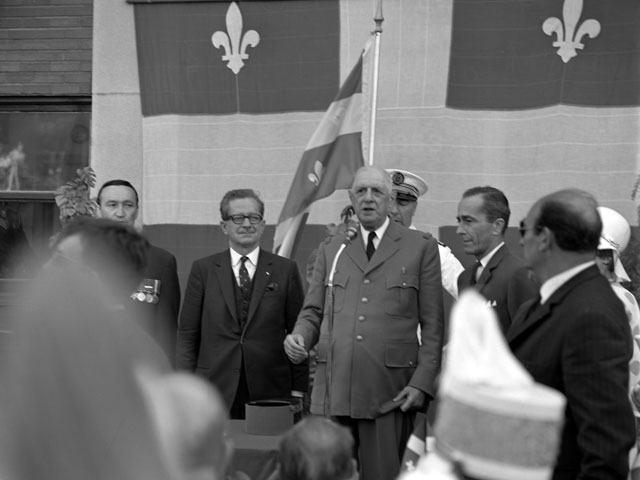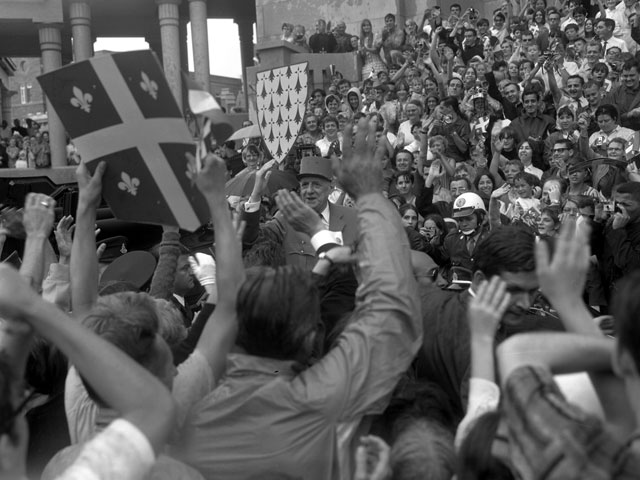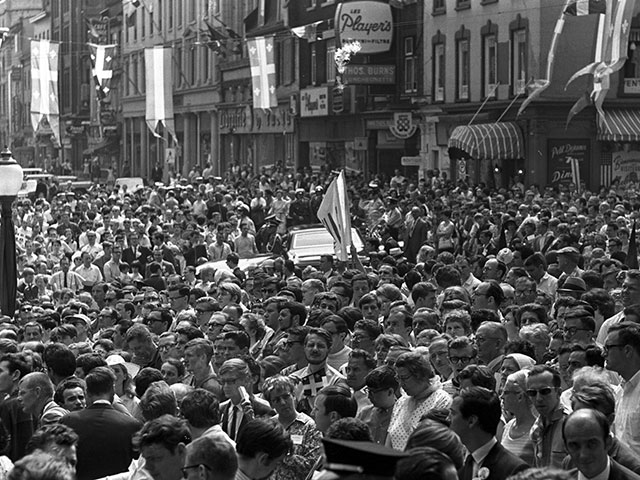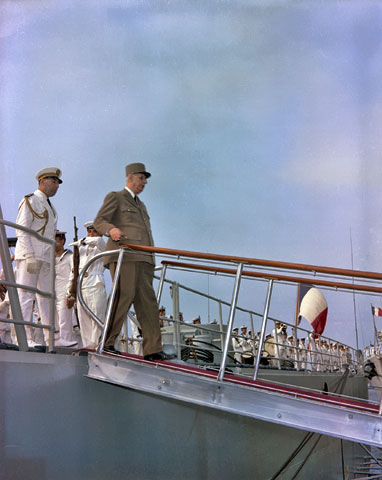 General de Gaulle's Call for the Liberation of Quebec
"When he pronounced the word 'liberation' I could scarcely believe my ears. It was much more than I had expected. When he shouted 'Vive le Québec libre' I was speechless. At first I didn't believe it, but soon realized that it was true when I saw the crowd's reactions" (translation).
Pierre Bourgault, Écrits polémiques, Montréal, Boréal, 1988, p. 129.
Canada Unrolls the Red Carpet for Its Centennial
In 1967, the year of the World Fair in Montréal and the Centennial of the Canadian Confederation, a great number of heads of state and dignitaries were expected in the country. One among them who drew particular attention was the president of the French Republic, General Charles de Gaulle. Established protocol indicated that each guest arrive at the national capital, Ottawa, by plane. A tour of the Montréal Expo was planned, but as an ancillary activity. This program did not please General de Gaulle, who decided to travel to the country in the same manner of the first French in the 16th and 17th centuries, by boat, and begin his visit in Quebec.
"Vive le Québec libre"
July 23, 1967, the admiral-ship Colbert moored at the Port of Quebec with de Gaulle aboard. The next day, July 24, the anniversary of the discovery of Canada by Jacques Cartier in 1534, de Gaulle travelled along the Chemin du Roi to Montréal – another highly symbolic gesture – accompanied by his faithful friend, Daniel Johnson, Premier of Quebec, Up to a half-million Quebecers saluted him along the way. The general made speeches in Donnacona, Sainte-Anne-de-la-Pérade, Trois-Rivières, Louiseville, Berthierville and Repentigny. At each stop his comments were intentionally and increasingly stripped of diplomatic precautions, allowing his innermost thoughts to materialize. In Montréal, the procession was welcomed by a few thousand people. De Gaulle ended his journey at city hall where, before a crowd of some twenty thousand who had come to hear him, he ended his speech with the fateful words, "Vive le Québec libre." The crowd was ecstatic; the Quebec and federal government representatives, stunned. Canadian Prime Minister Lester B. Pearson qualified the General's comments as unacceptable. To the utter despair of federal authorities, the famous visitor from France had just lent a helping hand to Quebec sovereignists. Two days later, de Gaulle returned to France without stopping in Ottawa.
Related events
Related characters
Related years