Secondary Navigation Menu
Home > Events > The Affirmation of Quebec > The Terrorist Activities of the Front de Liberation du Quebec (FLQ)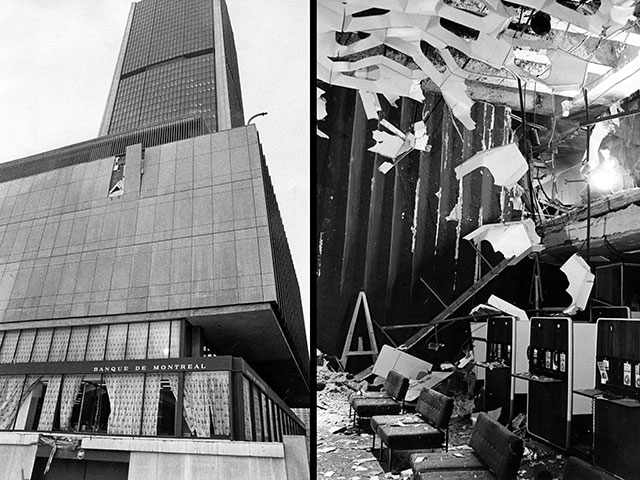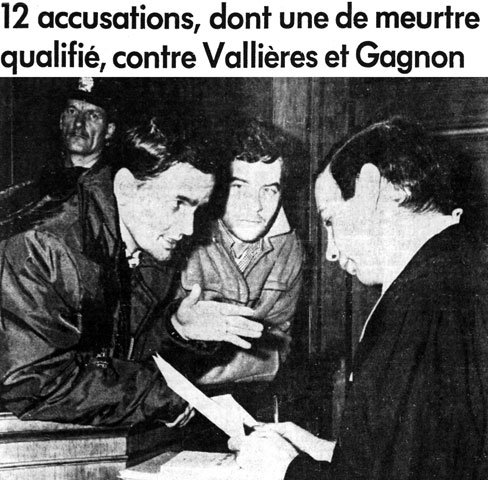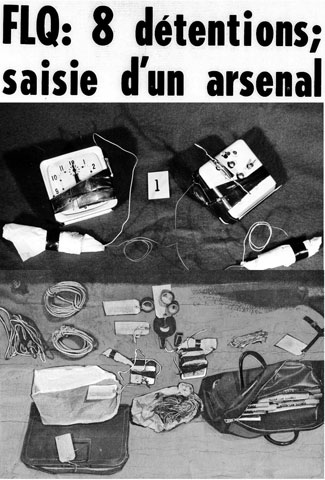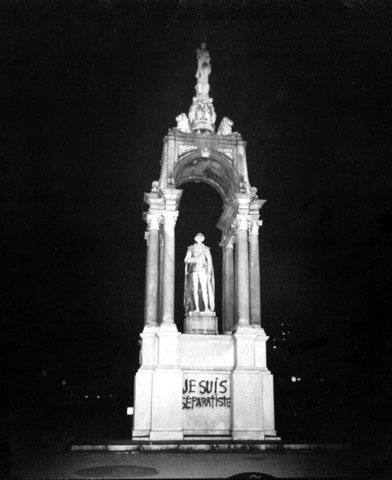 The Terrorist Activities of the
Front de Liberation du Quebec

(FLQ)
Revolution, the Only Path to Independence
The decolonization movement after the Second World War led to violent and tragic incidents. One need only recall the war in Vietnam (1946-1975) the Algerian War (1954-1962), and the Cuban Revolution (1959) or, then again, activities of the Irish Republican Army (IRA) that rose again in 1949 and the ETA (Basque Homeland and Freedom) in Spain starting in 1959. These armed fights for national liberation were sources of inspiration for independence militants in Quebec who began to believe that freedom could never be obtained through democracy.
Graffiti, a New Way to Express One's Convictions
At the onset of the 1960s, the nationalist sensibility of a goodly portion of the population in Quebec was on a hair-trigger. In 1962, when Donald Gordon, president of the Canadian National Railway (CN), stated unequivocally that French Canadians lacked the competence to occupy the position of Vice-president of the Crown Corporation that he directed, it was the spark that ignited the powder keg. Shortly thereafter, a small, more or less clandestine group was born: the Réseau de résistance pour la libération nationale du Québec (RR). Its sole purpose was to put graffiti with slogans demanding the independence of Quebec (Vive le Québec libre for example) on monuments, public buildings and road signs. In the end, the RR would support the efforts of the sovereignist movements.
The FLQ, an Increasingly Violent Organization
In 1963, some thirty individuals detached themselves from the small group of graffiti supporters, convinced that the independence of Quebec could not be obtained without violence. Such was the birth of the Front de libération du Québec (FLQ). A few weeks later, Molotov cocktails were tossed at three armouries of the Canadian Army in Montréal. This was followed by other bombings and robberies of banks and firearms. In 1967, the Centennial year of the Confederation and the World Fair in Montréal, the FLQ was more discreet. Deeds of high renown of the revolutionary movement in Quebec culminated with the October Crisis in 1970 and the death of Liberal Minister Pierre Laporte.
Related events
Related characters
Related years