Secondary Navigation Menu
Home > Events > Women's Revolution > The Bird Commission on the Status of the Canadian Woman
For correct page displaying:
You must activate JavaScript
And/Or install the Adobe Flash Player plugin
Download video (1 minute 17 seconds, 17.7 MB)
Accessible version of the video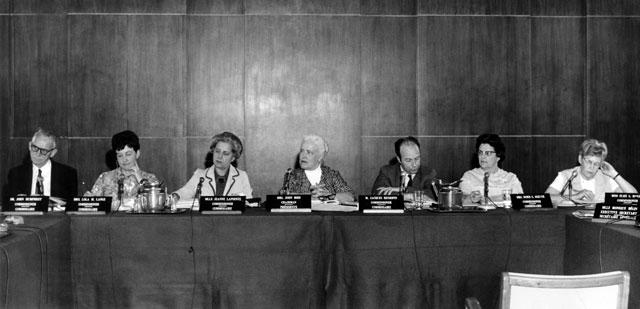 The Bird Commission on the Status of the Canadian Woman
Creation of a Royal Commission on the Status of Women
Throughout the Western World in the 1960s, there were questions regarding human rights, Blacks, minorities and racial segregation. But what of women's rights and gender-based discrimination? Pressured by groups of women increasingly present on the public place and following the example of the American government and seven others in Europe, the Liberal government of Lester B. Pearson established a Royal Commission on the Status of Women in 1967. Its president, Florence Bayard Bird, an Ottawa journalist, was seconded by six commissioners including two from Quebec: Jeanne Lapointe, professor of literature at Université Laval, and Jacques Henripin, professor of demography at the Université de Montréal. Up to 469 memoranda and some one thousand letters were presented to the Bird Commission. During the 37 days of public hearings, the commissioners heard from nearly 900 people.
The Bird Commission: Forceful Conclusions
The Bird Commission tabled its bulky report in 1970. The findings were disconcerting. In principle, men and women were equal; but in fact, they were not. The average income of men and women over 65 years of age provided a fine example. The income of men ($3 044) was nearly double that of women ($1 596). To remedy the situation, the commissioners tabled a long series of recommendations to iron out the inequalities between the sexes in different spheres of society. The avant-garde measures proposed included a minimum legal age of 18 for marriage, the multiplication of daycare centres and birth control clinics and the right to abortion. Another section of the report dealt with the specific problems faced by Aboriginal women.
Reception of the Bird Commission Report
The Bird Commission report was well received overall. However, several women's groups thought that it added nothing new and had not gone far enough. Irrespective of this, the great merit of his report is that it brought to light the inequalities and injustices suffered by women and heightened the awareness of Canadians regarding these issues.
Related events
Related characters
Related years